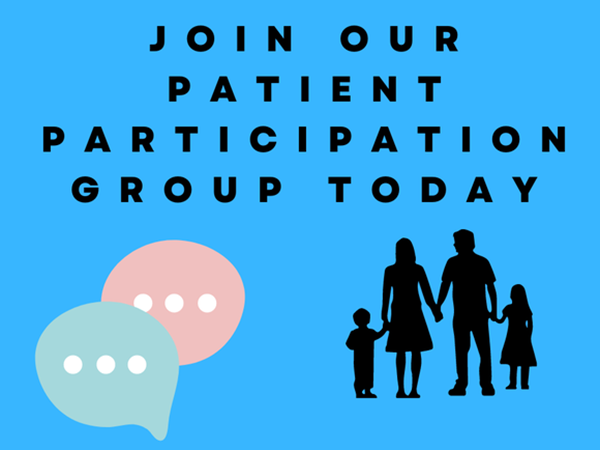 19th May
Patient Participation Group
It's been a while due to a little something called covid-19 but we are pleased to say we are starting our Patient Participation Group again on Thursday 23rd June at 3.00pm at our Brimington Practice. For those of you who don't know a PPG is a group of patients and practice staff who meet to discuss the practice and patient experience. We aim to work collaboratively to help plan and improve practice services by ensuring the patient perspective is represented.
We would love for more of our patients to attend the PPG so please let us know, if you have any ideas for a particular project or simply want to find out more please email admin.calbrim@nhs.net FAO Sarah Smith – Assistant Practice Manager. Or pop into either reception and give your contact details then nearer the time I will be in touch.
5th May
SCAM ALERT
We have been notified of a text scam that has been sent to patients purporting to be from their GP practice.
The text could easily be mistaken as a legitimate notification as the recipient's mobile will show the text grouped with legitimate texts from their own GP practice.
The message advises patients that they have been in close contact with someone who has tested positive for Omicron and that they must order a test kit using a link within the text. The link then asks for a payment of £0.99 for postage.
Please DO NOT click on such links, the GP Practice will NEVER text you in this way seeking payment for test kits.
Please be vigilant to avoid providing personal information such as bank details to fraudsters.
Please share with relatives and friends to raise awareness.
5th May
Medicines Order Line
IMPORTANT NOTICE
The Medicine Order Line (MOL) is under increased pressure at the moment. We recognise this is causing patient concern and we apologise for any inconvenience this is causing. MOL staff are working hard to resolve the temporary service issues. As a result, the time you are waiting in the call queue may be longer – please be patient
If any patients have access to email, please email the MOL with your name, date of birth, GP surgery and telephone number – one of the MOL operators will call you back within 48 hours to process your prescription request
ddccg.northmolonlinerequests@nhs.net for those who would normally call the 01246 number
ddccg.southmolonlinerequests@nhs.net for those who would normally call the 0115 number
If any patients have access to the internet / apps, could we please suggest you try these alternative ordering methods (online ordering via the practice / NHS app). This will free up the busy phone lines for patients who have no other means of ordering their repeat prescriptions
With the upcoming Jubilee bank holiday, the MOL is accepting prescription requests up to 14 days early rather than the usual 7 days early. This means prescriptions can be ordered from May 19
25th Apr
Are you having problems getting through on our phone lines or waiting a long time?
Last week our admin and reception team answered 1846 calls. Many of these calls did not need to be placed to the practice. This could have saved time for patients and time for staff that could have been spent working through tasks set by the GPs and answering calls for unwell patients.
We are receiving an increasing number of calls from patients to order their prescription or to check if their prescription is ready. We do not take prescription requests over the phone. You can order your prescription either by dropping off your request at the practice, by ordering online – you can register for this by bringing your photo ID into the practice or by ringing the Medicines Order Line on 01246 588860. We appreciate this number is often busy you can request a call back from them online MOL (derbyandderbyshireccg.nhs.uk) or by emailing ddccg.northMOLonlinerequests@nhs.net. Please do not phone the practice if you cannot get through to the Medicines Order Line, their telephone line is often busy and we ask you keep trying.
We also cannot check if your prescription is ready, some pharmacy's will let you know this. We aim to get all prescriptions done and sent to the chemist within 2 working days and will contact patients if there are any queries. We have over 7000 patients and I'm sure you will appreciate checking if your prescription is done takes up a lot of much needed time for our staff.
If you have a query about your covid vaccination or booster please call the covid call centre on 01246 253030 or 119.
You can also contact the practice through our website,
https://www.calbrimdocs.co.uk/
and click on the contact us button. You can request medical advice, a new sick note and an admin query on this button. This is much quicker way of getting through to our admin team and saves your wait on the phone.
We appreciate your understanding and patience during this exceptionally busy time. We are trying to reduce calls to help not only our staff but patients trying to get through for admin or clinical queries some of which may be urgent.
11th Feb
Citizens Advice Bureau
We are now booking face to face appointments at both our Calow and Brimington surgeries to speak with the Citizens Advice Bureau team.
They offer free, impartial advice regarding benefits, debts and housing. To find out more information about what services the Citizens Advice Bureau provide visit
https://www.citizensadvice.org.uk/
or you can call freephone 0808 278 7843 to book a telephone appointment.
To book a face to face appointment direct via the practice call us on 01246 220166.
20th Dec 2021
Update on Covid-19 Vaccination Programme
In line with the Government's announcement, the NHS is aiming to offer every adult the chance to book a COVID-19 booster vaccine by the end of the year. This means our practice is now prioritising the booster rollout.
As part of this, some of our routine services may be stood down temporarily to allow us to focus on protecting as many patients as possible.
We are still there for anyone who may need care for an urgent need; for example, potentially serious underlying problems such as known or suspected cancer, but ask for patience as we support this key national priority over the coming weeks. You might notice the following:
Delays in calls being answered
Routine care being delayed
Reception teams asking a lot of questions to help them get you to the best
person first time, that person may not always be a GP
Delays in any paperwork e.g. forms, sick notes being completed
That you are signposted to self-help and pharmacy options for self-limiting conditions
We hope to be able to stand back up any services as soon as possible and will update this page as soon as we know more.
Please don't forget there are many services available for you, depending on your condition. These include:
Self-care – This is the best choice to treat minor illnesses and injuries such as hangovers, coughs, colds, grazes, small cuts or sore throats. Many of these can be treated at home, simply with over-the-counter medicines and plenty of rest.
Pharmacy – Pharmacists can give advice on and treat a range of symptoms. They can support you with things such as diarrhoea, earaches, painful coughs, sticky eyes, teething and rashes.
NHS 111 – You can access 111 online or via the telephone. This is for any urgent but non-life threatening health concerns. They will be able to signpost you to the relevant service and provide advice where appropriate, or book you in to an Urgent Treatment Centre.
A&E / 999 – You should only attend A&E or dial 999 in a life-threatening emergency such as severe bleeding, breathing difficulties and severe chest pain.
If you are now eligible for your COVID-19 booster please book it as soon as you can.
It is vital as many people as possible get boosted as soon as possible. Please do not ring the practice regarding your boosters, instead visit www.nhs.uk/covidvaccination or call 119 to book an appointment.
If you are a housebound patient, there is a community team which will be coming out to you to vaccinate you, so please do not contact your GP as the team will be making contact with you.
Thank you for your patience towards our team who are continuing to work hard to support the vital vaccine booster programme roll out.
16th Dec 2021
Facebook Page
18th May 2021
Covid 19 Passports
From 17 May 2021, people in England who have been fully vaccinated against COVID-19 can demonstrate their vaccination status for international travel. A full course is currently two doses of any approved vaccine. Vaccine status will be available from:
It may take more than a week for your identity to be checked and verified so you can use these services.
If you cannot access these online services, and you have had two vaccines, you can request a paper letter from the NHS by calling 119. Only call 119 if you had your second dose more than five working days ago. It may take seven working days for the letter to arrive.
This practice is not able to provide you with a letter that shows your COVID-19 vaccination status.
When you're planning your travel, check the latest information on demonstrating your COVID-19 status when travelling abroad on the gov.uk website. Make sure there is time to get proof of your vaccination status before you leave.